LambdaTek wins the Queen's award for Enterprise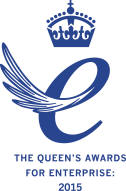 LambdaTek have won the 2015 Queen's Award for Enterprise - the UK's highest accolade for business success.
We received this award in the "International Trade" category due to our outstanding penetration into the EU market in the last 3 years.
A rapid growth

LambdaTek started reselling IT equipment in 2005, and quickly rose to being one of the prominent e-commerce IT resellers in the UK by focussing on top quality customer service coupled with very competitive prices.
In the past 3 years we achieved a stunning 600% increase in sales into the EU by leverageing the same in-house developed e-commerce tools and our top quality sales/support teams that helped propel LambdaTek into the limelight in this country.
Success based to top standards

Our website has over 100,000 lines in stock and is open to all UK and international businesses and consumers, and is now also present in France, Germany, Italy, Spain, Greece.
Winning the award for international trade is fantastic news for us, and a testament to the success of our business strategy of building in-house technology do all the repetitive order and product management tasks, enabling our sales and customer service teams to provide our customers with the top quality support they have come to expect from LambdaTek.
Winning the award does not mean we have forgotten our UK customers! On the contrary we continue to remain focussed on our UK home market, which remains our main source of business with an ever increasing number of happy UK repeat customers.
Background information about the Queens Award

Approximately 140 Queen's Awards have been announced this year for outstanding business achievement in the fields of International Trade, Innovation and Sustainable Development.
Winners of The Queen's Awards can expect an invitation to attend a special reception at Buckingham Palace. They can also use The Queen's Award Emblem in advertising, marketing and on packaging for a period of five years as a symbol of their quality and success.
The awards are made annually by HM The Queen, and are only given for the highest levels of excellence demonstrated in each category.