categories
News
We now ship to Europe!
Read more here
MSI LGA2011 INTEL X79A 8*DDR3 GBE LAN 4*USB3.0 10*USB2.0 ATX MOTHERBOARD
Quick Code: B837549

Manufacturer: MSI

Mfr. Part Number: X79A-GD45-8D

EAN:




This item is no longer available for sale.





Image accuracy is not guaranteed.
Please do not rely on the image for your purchase
NOTE: the information below is provided for your convenience only and we cannot guarantee its accuracy. If necessary, please verify with us before purchasing
.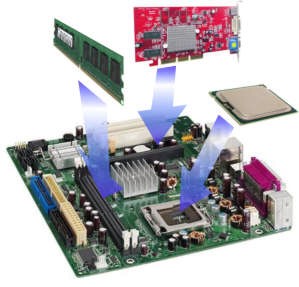 Are you a System Builder?

Assemble your PC and verify component compatability with our FREE online PC Designer Tool!
MSI X79A-GD45 (8D)X79A-GD45 (8D) - LGA2011, Intel X79, 8 X DDR3 1066/1333/1600/1800/2133/2400 128GB Max, SATA II/III, Realtek ALC892 8-ch., Gigabit Ethernet, ATX
Military Class III
MSI mainboards maintains the commitment to product stability and reliability by introducing Military Class III components! In addition to the use of Hi-c CAP, SFC, and Solid CAP, MSI now incorporates DrMOS II, the next-generation DrMOS that provides an integrated Double Thermal Protection to maximize the lifespan of components. All Military Class III components have passed MIL-STD-810G certification, making MSI's Military Class III components synonymous with premium quality and ultimate stability.

World's 1st PCI Express Gen 3 mainboard brand
With ultra-high 32GB/s transfer bandwidth, PCI Express Gen 3 provides a 2X faster transfer rate than the previous generation, this delivers amazing capabilities for true next generation extreme gaming.
Benefits:
- 2X bandwidth
- Increased efficiency and compatibility
- Extreme performance for current and next gen PCI Express cards

World's 1st UEFI and software graphical user interface
MSI ClickBIOS II provides a consistent user interface both in the UEFI BIOS and in Windows, it provides the most convenient way for users to control system settings and supports touchscreen control.
Benefits:
- Graphical User Interface, with touchscreen support
- Simply click or touch and move to change settings
- Full system control, including overclocking, security and information

THX TruStudio PRO
THX is a trade mark of a high-end audio/visual reproduction standard for movies, home theaters, computer speakers and other audio devices. THX Certified Audio products are designed to let users experience movies & videos as live show. The true sound effect can make high definition video more powerful.
Features
- A high-fidelity sound reproduction standard
- Accurately reproduce the fullest audio experience of movie, music and game soundtracks

Super Charger
Mobile consumer appliances are getting more and more attention in current day fast moving life style, with smart phones and tablets almost becoming a fashion accessory. However, many ordinary personal computers cannot charge some of these devices, making it difficult to stay connected. The MSI Super Charger is a Windows resident program capable of revising the power supply mode of your USB port to become more powerful. Once your phone or tablet is connected to your USB port, the Super Charger sends a signal to initiate its charging circuit, making it a really smart and convenient charging solution for mobile computing needs.
Features
- Instant MB info monitor
- Green Power: CPU Phase, system fan speed controlled with max power saving
- Smart Mode: 4 instant OC modes

USB 3.0
Compared to the 480Mbps provided by traditional USB 2.0, the all-new USB 3.0's 5Gb/s offers 10 times the transfer bandwidth, so transferring a Blu-ray movie takes less than one minute.
Features
- 10X Faster Than USB 2.0
- Up to 5Gb/s Data Transfer Bandwidth
- World's first to provide Front Panel USB 3.0 Port
- Boost Transfer Rate Between Your PC and External Storage Devices

SATA 6Gb/s
SATA 6Gb/s provides double the bandwidth of traditional SATA 3Gb/s, and increases the data transfer rate between your mainboard and internal storage devices, such as 7200RPM HDDs, 10000RPM HDDs and SSDs. It's also the current trend for upcoming high-speed internal storage devices to to break the existing bottleneck of a PC's performance.
Features
- 2X Faster Than SATA 3Gb/s
- Up to 6Gb/s Data Transfer Bandwidth
- Unleash True Performance of New HDDs/SSDs

APS (Active Phase Switching)
Active Phase Switching, APS, technology is an intelligent design that helps to save energy on MSI's mainboards. The underlying idea is to switch off the power supply as soon as no electricity is needed, and when the system needs more resources again, APS will automatically adjust electricity supply accordingly. APS will automatically detect your processor's loading at any given time and save energy accordingly. This is only possible by means of a very advanced power controlling technology. Other than software-based solutions, APS technology stands out from MSI's own research. The specially developed IC chip can operate automatically depending on the demands of the power supply, which is to reduce the total power usage.

Lossless 24-bit/192KHz HD Audio
Onboard PC audio gets better! MSI is the first to implement the most high-end HD Audio codecs available. Don't be fooled by other inferior audio solutions onboard (sometimes you can't even find the driver!) Only MSI offers the Loss-less 24-bit/192KHz HD Audio function with an incredible 109 SNR dB value to provide the most clear & vivid HD audio quality and support 7.1 channels surround sound playback with a 2-channel independent stereo output (multiple streaming) through the front panel 3.5 inch phone jack.

Winki 3
Winki 3 is a free Linux-based O/S which is based on the Linux core. With an ultra-fast booting speed and a multi-language interface, the built-in Winki 3 provides an easy-to-use internet environment that includes the most popular functions such as internet surfing, web mail, instant messaging, picture browsing, and more. It's the most practical way to be online in the shortest time.
Features
- User friendly & totally free applications
- Power on to run applications in 25 seconds
- Multi-language interface support

M-Flash
Compared to common mainboard which need extra BIOS chips, MSI's M-Flash has a double advantage which doesn't need extra components and secondly, all your BIOS data will be saved in the USB drive. The stored data does not only have backup and upgrade function, moreover it can also be seen as a portable BIOS chip which is actually able to boot up your PC.
Features
- Backup/Restore Your BIOS to/from Any USB Flash Disk
- Avoid Unnecessary Repair Due to Accident Failures During The Upgrading Process
- Earn more BIOS Lifespan by Reducing Unnecessary Rewriting Process

USB Safeguard
USB Safeguard can prevent mainboards and USB devices from being damaged by short-circuit and ESD (Electro-Static Discharge) with Anti-ESD chips built-into the mainboards. Additionally, the safeguard can protect against such dangers multiple times, and greatly improves product lifespan.
Features
- All MSI mainboards use USB Safeguard's anti-ESD chip for thorough protection against ESD damage
- USB Safeguard is protected against a short circuit and/or ESD without the need for a fuse. It also supports stand-by power supply

Live Update 5
MSI Live Update 5 is a powerful and useful application for updating the latest BIOS and Drivers, saving you time and lowers the risk of updating. End-users can install and run the Live Update 5 software on their computers with the companion CD or downloading the app from the MSI website.
Features
- Automatically Detect the BIOS/Driver/VGA/Utility Update
- Support Microsoft Windows 98SE/ME/2000/XP/Vista/7 32Bit

NVIDIA SLI
SLI technology allows using multiple Nvidia graphics cards in a single computer system with a mainboard equipped with an nForce SLI MCP. Users need an a mainboard with two PCI-Express 16x graphics slots and two matching GeForce graphics cards which are "SLI Ready". Most NVIDIA's PCI-Express graphics cards starting from the 6600 GPU can enjoy the benefits of SLI.

AMD CrossFireX
AMD CrossFireX™ is the ultimate multi-GPU performance gaming platform. Enabling game-dominatig power, AMD CrossFireX technology enables two or more discrete graphics processors to work together to improve graphics performance. AMD CrossFireX technology allows you to expand your system's graphics capabilities. It allows you the ability to scale your system's graphics horsepower as you need it, supporting up to four AMD Radeon™ HD graphics cards, making it the most scalable gaming platform ever. With an AMD CrossFireX gaming technology, the traditional graphics limitation exists no more, allowing you to enjoy higher performance as well as visual experience.

Instant OC
• Instant MB info monitor
• Intelligently auto set clock/voltage of CPU and memory
• Smart Mode: 4 instant OC modes

3TB+ Infinity
3TB+ Infinity is not only breaking through the limit of traditional BIOS, but also enhancing the utilization of hard drives efficiently. In addition to supporting the latest 3TB hard drives, MSI 3TB+ Infinity technology can use the 3TB hard drive as boot disk when installing a 64-bit operating system. Compared to competitors, MSI 3TB+ Infinity is an industry-leading technology which substantially presents an advantage of development and application in the future.
Features
- All the latest 3TB hard drivers on the market can be supported
- Make the 3TB hard drive as boot disk when installing a 64-bit operating system
shopping Cart
0.00
Total in cart:
0.00
Delivery:
0.00
Total ex.VAT:
News
LambdaTek win the Queen's Award for Enterprise