categories
News
We now ship to Europe!
Read more here
MSI LGA115 INTEL H61 2*DDR3 10/100 LAN DVI u-ATX MOTHERBOARD
Quick Code: B1490375

Manufacturer: MSI

Mfr. Part Number: H61M-P20/W8

EAN: 4719072271107




This item is no longer available for sale.





Image accuracy is not guaranteed.
Please do not rely on the image for your purchase
NOTE: the information below is provided for your convenience only and we cannot guarantee its accuracy. If necessary, please verify with us before purchasing
.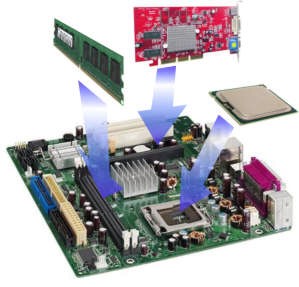 Are you a System Builder?

Assemble your PC and verify component compatability with our FREE online PC Designer Tool!
MSI H61M-P20/W8 motherboardH61M-P20/W8, LGA1155, H61 (B3), 2x DIMM, SATAII, PCI-E 3.0, DVI-D, Micro-ATX
Click BIOS Concept
Click BIOS Concept is based on the new UEFI technology which supports todays latest hardware. From faster booting to supporting large hard drives with a capacity of over 3TB. MSI's Click BIOS can be controlled with both a keyboard, but it also supports mouse control which simplifies navigating and manipulating system settings.

B3 Stepping Ready
To fix Intel's 6 Series chipset design error, the SATA problems in its 6 Series chipset, MSI implements the latest Intel B3 Stepping 6 Series chipset on its Z68/P67/H67 motherboards for fixing SATA problems in the Intel Series 6 chipsets. Consumers can now identify the latest MSI Z68/P67/H67 motherboards equipped with the Intel B3 Stepping chipset with the MSI B3 Stepping Ready logo. This provides a more confident way to identify your next-generation P67/H67 motherboard.

World's 1st PCI Express Gen 3 motherboard brand
With ultra-high 32GB/s transfer bandwidth, PCI Express Gen 3 provides a 2X faster transfer rate than the previous generation, this delivers amazing capabilities for true next generation extreme gaming.

Intel 22nm CPU Ready
Designed to be compatible with 3rd Gen Intel® Core™ i7/ Core™ i5/ Core™ i3/ Pentium®/ Celeron® processors for LGA 1155 socket

Super Charger
Mobile consumer appliances are getting more and more attention in current day fast moving life style, with smart phones and tablets almost becoming a fashion accessory. However, many ordinary personal computers cannot charge some of these devices, making it difficult to stay connected. The MSI Super Charger is a Windows resident program capable of revising the power supply mode of your USB port to become more powerful. Once your phone or tablet is connected to your USB port, the Super Charger sends a signal to initiate its charging circuit, making it a really smart and convenient charging solution for mobile computing needs.

Live Update 5
MSI Live Update 5 is a powerful and useful application for updating the latest BIOS and Drivers, saving you time and lowers the risk of updating. End-users can install and run the Live Update 5 software on their computers with the companion CD or downloading the app from the MSI website.

Solid Capacitors on PWM
Capacitors are the most important component for electronic product's power supply. The quality of the capacitors can impact the stability of the entire system and risk of product failure. Currently there are two types of capacitors, electrolytic capacitors and solid capacitors. Compared to electrolytic capacitors, solid capacitors have a longer lifespan, and provide a more stable power under high temperatures. More importantly, solid capacitors do not have any liquid materials inside, and thus will not suffer a leak which would infringe upon the product's stability. With such benefits is it no wonder that solid capacitors are very important for product quality's improvement,
shopping Cart
0.00
Total in cart:
0.00
Delivery:
0.00
Total ex.VAT:
News
LambdaTek win the Queen's Award for Enterprise