categories
News
We now ship to Europe!
Read more here
MSI LGA1155 INTEL H61 2*DDR3 GBE LAN m-ATX MOTHERBOARD
Quick Code: B841361

Manufacturer: MSI

Mfr. Part Number: H61M-P20-G3

EAN: 0816909094336




This item is no longer available for sale.





Image accuracy is not guaranteed.
Please do not rely on the image for your purchase
NOTE: the information below is provided for your convenience only and we cannot guarantee its accuracy. If necessary, please verify with us before purchasing
.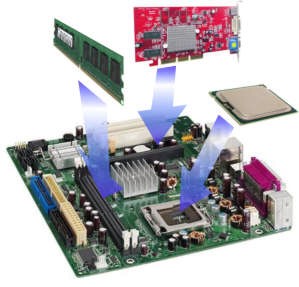 Are you a System Builder?

Assemble your PC and verify component compatability with our FREE online PC Designer Tool!
MSI H61M-P20-G3 motherboardIntel LGA 1155, Intel H61 (B3), 2 x DDR3 DIMMs 1066/1333/1600 MHz max 16GB, 4 x SATAII, Realtek ALC887, Fast Ethernet, Micro-ATX
Just press the OC Genie button or enable OC Genie II function in BIOS menu, the CPU performance (P67 series) or the 3D performance of iGPU (H67/H61 series) will be highly improved. Whether users want to watch a high bit-rate HD movie or go online gaming, both can be enjoyed with image performance that is smoother and lag-free!

Features
- Exclusive OC Genie detect hardware configuration
- Intelligently auto set clock/voltage of CPU and memory or iGPU
- Increase overall system performance in 1 second

Click BIOS Concept
Click BIOS Concept is based on the new UEFI technology which supports todays latest hardware. From faster booting to supporting large hard drives with a capacity of over 3TB. MSI's Click BIOS can be controlled with both a keyboard, but it also supports mouse control which simplifies navigating and manipulating system settings.

B3 Stepping Ready
To fix Intel's 6 Series chipset design error, the SATA problems in its 6 Series chipset, MSI implements the latest Intel B3 Stepping 6 Series chipset on its Z68/P67/H67 motherboards for fixing SATA problems in the Intel Series 6 chipsets. Consumers can now identify the latest MSI Z68/P67/H67 motherboards equipped with the Intel B3 Stepping chipset with the MSI B3 Stepping Ready logo. This provides a more confident way to identify your next-generation P67/H67 motherboard.

World's 1st PCI Express Gen 3 motherboard brand
With ultra-high 32GB/s transfer bandwidth, PCI Express Gen 3 provides a 2X faster transfer rate than the previous generation, this delivers amazing capabilities for true next generation extreme gaming.

Benefits:
- 2X bandwidth
- Increased efficiency and compatibility
- Extreme performance for current and next gen PCI Express cards

Intel 22nm CPU Ready
Designed to be compatible with 3rd Gen Intel® Core™ i7/ Core™ i5/ Core™ i3/ Pentium®/ Celeron® processors for LGA 1155 socket

Super Charger
Mobile consumer appliances are getting more and more attention in current day fast moving life style, with smart phones and tablets almost becoming a fashion accessory. However, many ordinary personal computers cannot charge some of these devices, making it difficult to stay connected. The MSI Super Charger is a Windows resident program capable of revising the power supply mode of your USB port to become more powerful. Once your phone or tablet is connected to your USB port, the Super Charger sends a signal to initiate its charging circuit, making it a really smart and convenient charging solution for mobile computing needs.
Note: Only front red USB ports support charger function after system off

Live Update 5
MSI Live Update 5 is a powerful and useful application for updating the latest BIOS and Drivers, saving you time and lowers the risk of updating. End-users can install and run the Live Update 5 software on their computers with the companion CD or downloading the app from the MSI website.

Features
- Automatically Detect the BIOS/Driver/VGA/Utility Update
- Support Microsoft Windows XP/Vista/7 32/64bit

M-Flash
Compared to common motherboard which need extra BIOS chips, MSI's M-Flash has a double advantage which doesn't need extra components and secondly, all your BIOS data will be saved in the USB drive. The stored data does not only have backup and upgrade function, moreover it can also be seen as a portable BIOS chip which is actually able to boot up your PC.

Features
- Backup/Restore Your BIOS to/from Any USB Flash Disk
- Avoid Unnecessary Repair Due to Accident Failures During The Upgrading Process
- Earn more BIOS Lifespan by Reducing Unnecessary Rewriting Process

Solid Capacitors on PWM
Capacitors are the most important component for electronic product's power supply. The quality of the capacitors can impact the stability of the entire system and risk of product failure. Currently there are two types of capacitors, electrolytic capacitors and solid capacitors. Compared to electrolytic capacitors, solid capacitors have a longer lifespan, and provide a more stable power under high temperatures. More importantly, solid capacitors do not have any liquid materials inside, and thus will not suffer a leak which would infringe upon the product's stability. With such benefits is it no wonder that solid capacitors are very important for product quality's improvement,

Winki 3
Winki 3 is a free Linux-based O/S which is based on the Linux core. With an ultra-fast booting speed and a multi-language interface, the built-in Winki 3 provides an easy-to-use internet environment that includes the most popular functions such as internet surfing, web mail, instant messaging, picture browsing, and more. It's the most practical way to be online in the shortest time.

Features
- User friendly & totally free applications
- Power on to run applications in 25 seconds
- Multi-language interface support
shopping Cart
0.00
Total in cart:
0.00
Delivery:
0.00
Total ex.VAT:
News
LambdaTek win the Queen's Award for Enterprise