categories
News
We now ship to Europe!
Read more here
MSI C847IS-P33 motherboard

(MSI C847IS-P33, NM70, DualDDR3-1333, SATA3, GBLAN, mITX)
Quick Code: B1490381

Manufacturer: MSI

Mfr. Part Number: C847IS-P33

EAN:




£59.23

£71.08 inc. VAT

Cash Back given if paying by DEBIT card or Bank Transfer -

Learn more




Image accuracy is not guaranteed.
Please do not rely on the image for your purchase
NOTE: the information below is provided for your convenience only and we cannot guarantee its accuracy. If necessary, please verify with us before purchasing
.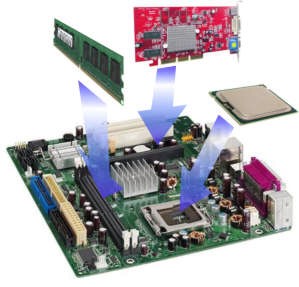 Are you a System Builder?

Assemble your PC and verify component compatability with our FREE online PC Designer Tool!
MSI C847IS-P33 motherboardC847IS-P33, FCBGA1023, Intel® Celeron 847/ 1.1 GHz/ Dual-Core, Intel® NM70, 16 GB RAM max DDR3 1066/1333, LAN 10/100/1000 Mb, USB 2.0 x4, Mini-ITX
All Solid Capacitors
Capacitors are the most important component for electronic product's power supply. The quality of the capacitors can impact the stability of the entire system and risk of product failure. Currently there are two types of capacitors, electrolytic capacitors and solid capacitors. Compared to electrolytic capacitors, solid capacitors have a longer lifespan, and provide a more stable power under high temperatures. More importantly, solid capacitors do not have any liquid materials inside, and thus will not suffer a leak which would infringe upon the product's stability. With such benefits is it no wonder that solid capacitors are very important for product quality's improvement.

Click BIOS Concept
Click BIOS Concept is based on the new UEFI technology which supports todays latest hardware. From faster booting to supporting large hard drives with a capacity of over 3TB. MSI's Click BIOS can be controlled with both a keyboard, but it also supports mouse control which simplifies navigating and manipulating system settings.

SATA 6Gb/s
SATA 6Gb/s provides double the bandwidth of traditional SATA 3Gb/s, and increases the data transfer rate between your motherboard and internal storage devices, such as 7200RPM HDDs, 10000RPM HDDs and SSDs. It's also the current trend for upcoming high-speed internal storage devices to to break the existing bottleneck of a PC's performance.

Features
- 2X Faster Than SATA 3Gb/s
- Up to 6Gb/s Data Transfer Bandwidth
- Unleash True Performance of New HDDs/SSDs

3TB+ Infinity
3TB+ Infinity is not only breaking through the limit of traditional BIOS, but also enhancing the utilization of hard drives efficiently. In addition to supporting the latest 3TB hard drives, MSI 3TB+ Infinity technology can use the 3TB hard drive as boot disk when installing a 64-bit operating system. Compared to competitors, MSI 3TB+ Infinity is an industry-leading technology which substantially presents an advantage of development and application in the future.

Features
- All the latest 3TB hard drivers on the market can be supported
- Make the 3TB hard drive as boot disk when installing a 64-bit operating system

Live Update 5
MSI Live Update 5 is a powerful and useful application for updating the latest BIOS and Drivers, saving you time and lowers the risk of updating. End-users can install and run the Live Update 5 software on their computers with the companion CD or downloading the app from the MSI website.

Features
- Automatically Detect the BIOS/Driver/VGA/Utility Update
- Support Microsoft Windows XP/Vista/7 32/64bit

M-Flash
Compared to common motherboard which need extra BIOS chips, MSI's M-Flash has a double advantage which doesn't need extra components and secondly, all your BIOS data will be saved in the USB drive. The stored data does not only have backup and upgrade function, moreover it can also be seen as a portable BIOS chip which is actually able to boot up your PC.

Features
- Backup/Restore Your BIOS to/from Any USB Flash Disk
- Avoid Unnecessary Repair Due to Accident Failures During The Upgrading Process
- Earn more BIOS Lifespan by Reducing Unnecessary Rewriting Process

Winki 3
Winki 3 is a free Linux-based O/S which is based on the Linux core. With an ultra-fast booting speed and a multi-language interface, the built-in Winki 3 provides an easy-to-use internet environment that includes the most popular functions such as internet surfing, web mail, instant messaging, picture browsing, and more. It's the most practical way to be online in the shortest time.

Features
- User friendly & totally free applications
- Power on to run applications in 25 seconds
- Multi-language interface support
shopping Cart
0.00
Total in cart:
0.00
Delivery:
0.00
Total ex.VAT:
News
LambdaTek win the Queen's Award for Enterprise