categories
News
We now ship to Europe!
Read more here
MSI 760GM-E51 FX MATX SOCKET AM3 5200HT AMD760G CHIPSET 4 DDR3 DVI HDMI
Quick Code: B861362

Manufacturer: MSI

Mfr. Part Number: 760GM-E51-FX

EAN: 0816909089257




This item is no longer available for sale.





Image accuracy is not guaranteed.
Please do not rely on the image for your purchase
NOTE: the information below is provided for your convenience only and we cannot guarantee its accuracy. If necessary, please verify with us before purchasing
.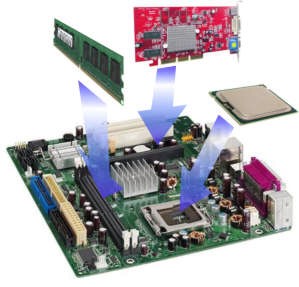 Are you a System Builder?

Assemble your PC and verify component compatability with our FREE online PC Designer Tool!
MSI 760GM-E51 (FX) motherboard760GM-E51 (FX), 1 x AMD AM3+ CPU, AMD 760G/SB710, 4 x DDR3 DIMM RAM, 1 x PCIe x16 2.0, 1 x PCIe x1, 2 x PCI, 1 x IDE, 5 x SATA II, 1 x eSATA II, 7.1ch., HDA, Gigabit Lan, up to 12 USB2.0/1.1, MicroATX
M-Flash
Compared to common mainboard which need extra BIOS chips, MSI's M-Flash has a double advantage which doesn't need extra components and secondly, all your BIOS data will be saved in the USB drive. The stored data does not only have backup and upgrade function, moreover it can also be seen as a portable BIOS chip which is actually able to boot up your PC.

Features
- Backup/Restore Your BIOS to/from Any USB Flash Disk
- Avoid Unnecessary Repair Due to Accident Failures During The Upgrading Process
- Earn more BIOS Lifespan by Reducing Unnecessary Rewriting Process

APS (Active Phase Switching)
Active Phase Switching, APS, technology is an intelligent design that helps to save energy on MSI's mainboards. The underlying idea is to switch off the power supply as soon as no electricity is needed, and when the system needs more resources again, APS will automatically adjust electricity supply accordingly. APS will automatically detect your processor's loading at any given time and save energy accordingly. This is only possible by means of a very advanced power controlling technology. Other than software-based solutions, APS technology stands out from MSI's own research. The specially developed IC chip can operate automatically depending on the demands of the power supply, which is to reduce the total power usage.

Lossless 24-bit/192KHz HD Audio
Onboard PC audio gets better! MSI is the first to implement the most high-end HD Audio codecs available. Don't be fooled by other inferior audio solutions onboard (sometimes you can't even find the driver!) Only MSI offers the Loss-less 24-bit/192KHz HD Audio function with an incredible 109 SNR dB value to provide the most clear & vivid HD audio quality and support 7.1 channels surround sound playback with a 2-channel independent stereo output (multiple streaming) through the front panel 3.5 inch phone jack.

HDMI v1.3
HDMI (High-Definition Multimedia Interface) is new generation fully digital video/audio interface which can transfer 1080p Highi-Definition video and Audio output in single compact connector. By passing HDMI 1.3 certification, this product can deliver highest video, audio quality and also support HDCP protection of Blu-ray.

Features
- Next-Gen Multimedia Interface
- Deliver Full HD Video & Audio output In Only One Cable

i-Charger
Mobile consumer appliances are getting more and more attention in current day fast moving life style, with smart phones and tablets almost becoming a fashion accessory. However, many ordinary personal computers cannot charge some of these devices, making it difficult to stay connected. The MSI i-Charger is a Windows resident program capable of revising the power supply mode of your USB port to become more powerful. Once your phone or tablet is connected to your USB port, the i-Charger sends a signal to initiate its charging circuit, making it a really smart and convenient charging solution for mobile computing needs.

Features
- Automatically Detect & Charge Your Smart Phone or Tablet
- Support Microsoft Windows 98SE/ME/2000/XP/Vista/7 32Bit

Live Update 5
MSI Live Update 5 is a powerful and useful application for updating the latest BIOS and Drivers, saving you time and lowers the risk of updating. End-users can install and run the Live Update 5 software on their computers with the companion CD or downloading the app from the MSI website.

Features
- Automatically Detect the BIOS/Driver/VGA/Utility Update
- Support Microsoft Windows XP/Vista/7 32/64bit

Unlock CPU Core
MSI's Unlock CPU Core technology, exclusive from MSI, can unlock the hidden cores in the CPU by making a few selections from the BIOS. By unlocking a Phenom II X2 CPU into a Phenom II X4 CPU, users can boost the CPU performance over 104%. In Addition, MSI discovers the ability to unlock Phenom II X4 960T to a 6 core CPU through the same BIOS setting. At same time, MSI was the first who could unlock a 4-core AMD CPU to a 6-core because MSI does not use any "unlock" chip on our mainboards. MSI engineers developed a BIOS technology to unlock cores which can be easy upgraded via new BIOS. Because of this flexible BIOS core unlock feature, MSI can today announce that it made BIOS unlocking easy and accessible for the audience who doesn't know their way around the BIOS. This new MSI software tool allows users to unlock CPU cores from Windows with just a few simple clicks, no need to enter the BIOS.

Easy OC Switch
Every user desires more performance. MSI has special Easy OC Switches to provide that accessibility to all users. This great technology makes it easier to tweak the core clock settings. There's no need to have a detailed understanding; with just a few simple steps, everyone is able to get the most out of their mainboards. With a single click, the whole system will increase by 5%-20% performance, making overclocking a very easy thing to do.

HTPC Ready
With such diversity of display outputs, you are able to choose and upgrade display devices then build up your own home theater.

Features
- Next-Gen Multimedia Interface
- All digital signal output

Cool'n'Quiet
AMD Cool'n'Quiet™ Technology reduces heat and noise so you can experience amazing performance without distraction. Combined with core enhancements, included in the AMD processors, that can improve overall power savings, deliver better multitasking and energy efficiency. Cool'n'Quiet technology can automatically adjust processor ratio to throttle CPU speed with four modes.

Features
- Independent Dynamic Core Technology
- Dual Dynamic Power Management™
- AMD CoolCore™ Technology
- AMD Wideband Frequency Control
- Multi-Point Thermal Control

Solid Capacitors on PWM
Capacitors are the most important component for electronic product's power supply. The quality of the capacitors can impact the stability of the entire system and risk of product failure. Currently there are two types of capacitors, electrolytic capacitors and solid capacitors. Compared to electrolytic capacitors, solid capacitors have a longer lifespan, and provide a more stable power under high temperatures. More importantly, solid capacitors do not have any liquid materials inside, and thus will not suffer a leak which would infringe upon the product's stability. With such benefits is it no wonder that solid capacitors are very important for product quality's improvement,
shopping Cart
0.00
Total in cart:
0.00
Delivery:
0.00
Total ex.VAT:
News
LambdaTek win the Queen's Award for Enterprise